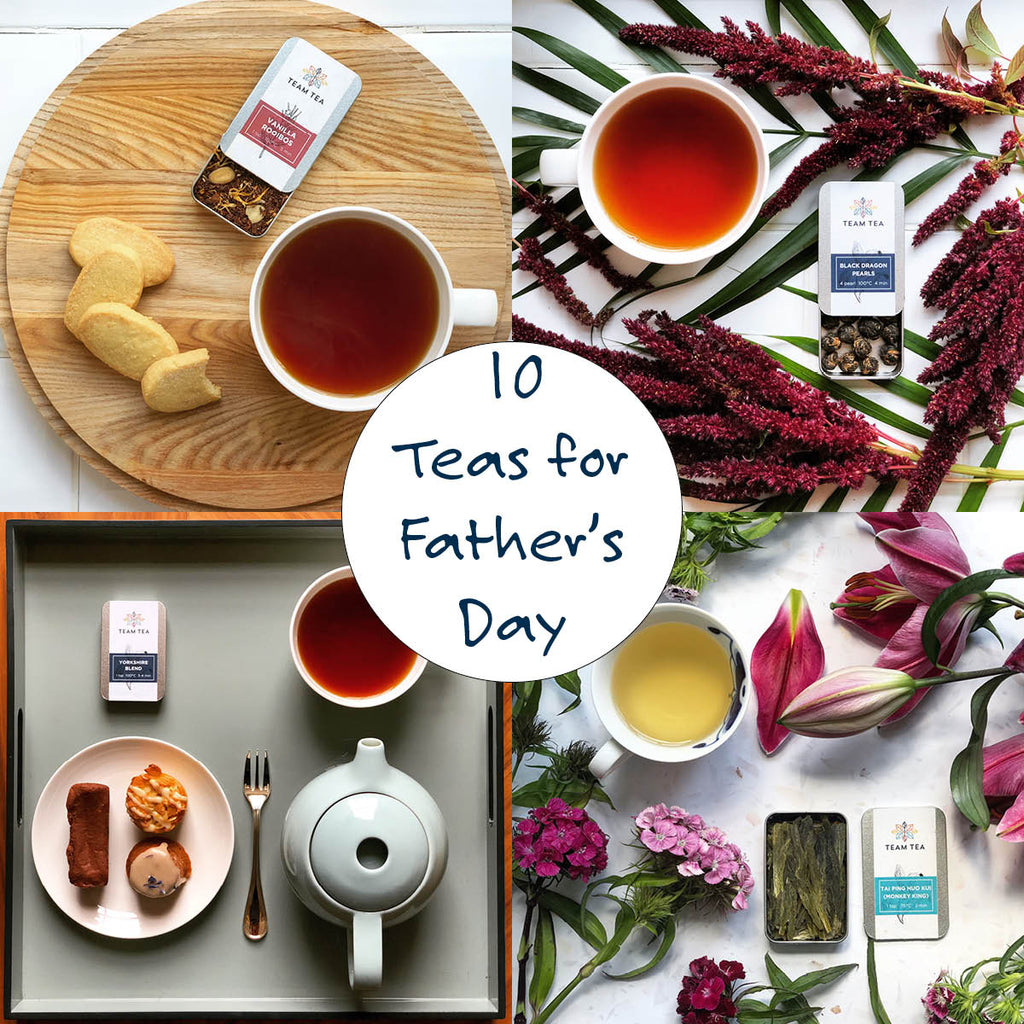 This Father's Day lets show them some love. Does your Dad love nothing better than a good cuppa? Then check out our top Father's Day recommendations below. Don't forget you can add a gift box and a personalised message, and why not include a Tea Strainer Basket if they are new to loose-leaf teas.
The 'If it ain't broke, don't fix it' Dad,
Has your Dad used the same toothpaste for as long as you can remember? Always buys his clothes from the same place? Knows what he's going to order before he's seen the menu? Then Yorkshire Blend is the tea for him! 
The Gardening Dad,
Can his garden give the Chelsea Flower Show entries a run for their money? Is your Dad happiest when he is re-potting something, or pruning something back. After a quick catchup has he told you which plants are coming into flower, the latest on the pesky slug issue, and which birds have been nesting where? Tai Ping Huo Kui (Monkey King) with its long elegant leaves is just the tea for him.
The DIY Dad,
Can your Dad fix anything? Does he always seem to find the right part, bit of wood or tool for any job? Is he always tinkering away, happiest when he is in his shed? Try Oxford Strong, it's strong enough to stand your spoon in even with milk & 2 sugars! 
The Stressed Out Dad,
Is your Dad always taking on too much? Does he have the weight of the world on his shoulders, muttering at his phone about the latest email he's received, and falling asleep in front of the TV? Bring him a cup of GABA Sencha Green to help soothe and relax him.
The Yoga Dad,
Does your Dad begin his day with sun salutations and a chia seed porridge? Are you more likely to find him snacking on superfoods than choccie biscuits? Turmeric Gold Organic should have him saying Namaste in no time!
The Sweet-Tooth Dad,
Does your Dad always have a biscuit (or cake or doughnut!) with his tea? Is he the first to order pudding when you go out? Keep finding secret Magnum wrappers in his car? Vanilla Rooibos is the one for him.
The Armchair Dad,
Does your Dad have a favourite armchair? Does he love nothing more than sinking into it for a moment of peace to read the paper or listen to music? Peregrine Mountain 1st Flush is a tea to be savoured.
The Connoisseur Dad,
Does your Dad know his Burgundy from his Bordeaux? Does he know his Monet's from Manet's? Shirts from Jermyn Street, and never seen without his watch? Our award-winning Yin Zhen 'Silver Needle' Organic should make him nod with appreciation.
The Technophile Dad,
Has your Dad always got the latest gadget? Is his TV system more sophisticated than NASA's control desk? Has the noise of his drone become the soundtrack to your family day outs? We recommend Black Dragon Pearls, its like no other tea he'll have tried before!
The Sports-mad Dad,
Football, Cricket, Golf, Rugby, Darts, Tennis, even Curling, does your Dad follow them all? Can he tell you who scored THAT goal in 1986 that won THAT trophy? Do you catch him checking the score at weddings? Imperial Keemun Mao Feng will keep him caffeine-fuelled even into extra time.
Dad, you're the best!
For the greatest Dad, why not treat him to a Tea Club Subscription. He'll receive 3 new teas each month, meaning that you can spread the gift of Father's Day over 3 or even 6 months!
And if you still can't decide, we've got our Ultimate Father's Day Gift Box. One of each of the 9 teas above, all packaged in our signature gift box. Just add a message and we can send it straight to him!