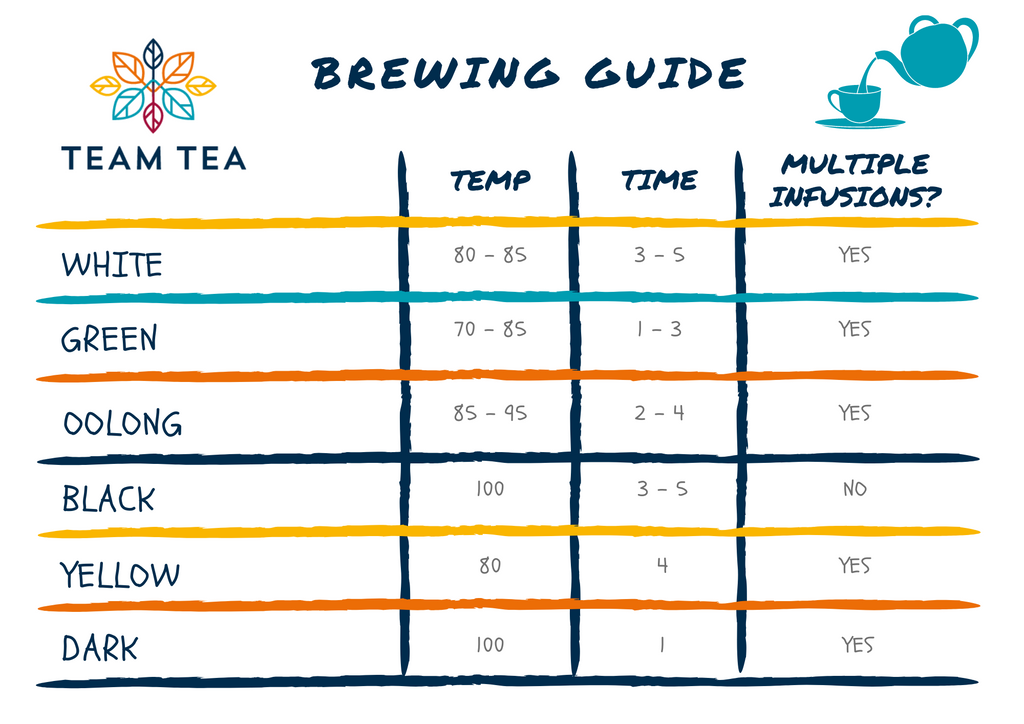 Think brewing the perfect cuppa is as simple as pouring over some hot water? Think again! 
We'll show you how to make loose leaf tea – what you'll need and some top tips.
What's the key?
So, step one is complete – you've selected one of our delicious loose leaf teas. We'll show you how to brew loose leaf tea, and what impacts the flavour.
Water Quality
Most of us are guilty of not doing one simple thing that could improve your cup of tea. Any guesses? It's leaving old water in the kettle!
Oxygen helps tea to develop in flavour and old water that has already been boiled loses oxygen. So, first thing's first, empty the kettle and fill it with freshly drawn, cold water.
If you have a water filter, even better! Filtering water will remove any impurities and elements that could affect the flavour of your cup of tea. This is especially beneficial in hard water areas. You know that film that you sometimes see on top of a cup of tea? That's down to the water.
Water Temperature
Next up – let's talk water temperature. You're wondering how to make loose leaf tea, but water temperature might not have crossed your mind. A kettle is a kettle, right?
Different types of tea benefit from different temperatures to get the best results. So rather than asking how to make loose leaf tea, you might need to be asking how to make loose leaf English breakfast tea.
Don't worry though, head to the bottom of this article and we have a quick reference guide to help you with each variety of tea. Even better, all of our loose leaf teas come with a brewing guide, as well as temperature and timing suggestions on the tin. So, if you've ordered from us you're already one step ahead.
There are two items that can help you to get the perfect water temperature. A new kettle, that allows you to set the temperature it heats the water to – often called a variable temperature or multi-temperature kettle. Or a water/kitchen thermometer. More on that later.
Length of Brew
If we're talking how to brew loose leaf tea, we have to mention brewing time. As with water temperature, different teas benefit from different brewing times.
The amount of time you need to brew your tea varies from tea to tea. Some only need to be in for a minute, others are best brewed for a few. For example, our Genmaicha 'Popcorn' Organic Green only needs 1.5 minutes to brew. Compare that to our Black Dragon Pearls, which need 4-5 minutes to really hydrate and unfurl, and you can see that timing is important!
Quantity of Leaf
The final element we have to talk about, when explaining how to make loose leaf tea, is quantity!
There's a general rule of thumb you can use which is 1g of tea per 100ml of water. You can add a little more leaf if you want a stronger brew. Or a little less for a more delicate cup.
On the front of our tins we've tried to translate this into teaspoons, to provide a quick reference. This doesn't translate well for some types of tea though. If you imagine a teaspoon of Jasmine Dragon Pearls, it will be quite different in quantity to a teaspoon of Aged Jasmine Silver Needle. The shape and size of the leaves would sit differently on a spoon.
A small set of digital scales is a great investment when trying to achieve your dream cup of tea.
What do you need?
So, to achieve that perfect cuppa, what are you going to need?
Tea Strainer
You need a way to remove those tea leaves before you sit down with your brew. There are so many different ways to do this. From teapots with built-in strainers, to tea strainer balls that sit in your cup.
While there are a lot of fancy (and expensive) products out there. We like to keep it simple with a stainless steel tea strainer basket. They're versatile because you can sit them in a teapot or just straight in your mug.
We also offer T-Filters as part of our monthly tea subscription. They're basically compostable tea bags that you fill yourself!
Thermometer or Variable Kettle
OK, so bear with us here. This may seem excessive or too scientific, but trust us, it's not. You can still make a great cup of tea without either of these things, but they're going to take it to the next level.
Being able to check the temperature of the water before making a cup of tea allows you greater control. As we've mentioned, different types of tea benefit from different brewing conditions.
In the case of temperature, it's closely related to the oxidation levels of the tea. You can read all about that in our ultimate guide to the types of tea. More oxidised teas, such as black teas, benefit from a hotter water temperature. Whereas less oxidised teas, like green teas, benefit from lower.
A simple water or kitchen thermometer will do the job. Just boil the kettle and wait for it to drop to the temperature you need, using the thermometer to check.
If you're really getting into your tea, perhaps a variable kettle is something you'd like to invest in. They allow you to set what temperature the water will be heated to, allowing you to set it to suit the cup of tea you're going to be making. Not only will it help make a great cuppa, but it will save energy by not needlessly heating the water up to boiling point!
If you don't have either of these, then there's a very rough way you can work out the water temperature. Use a ratio of boiling water to cold water. For 80°c water, use 80% boiling water and 20% from a tap/water filter e.g. for a 500ml teapot, use 400ml boiling water and 100ml tap/filter. Or for 90°c it would be 90% boiling water e.g. for a 500ml teapot, use 450ml boiling water to 50ml cold.
Digital Scales
If you're really getting into your tea, a small set of digital scales isn't a bad investment. It will allow you to measure out the perfect amount of tea every time. You can pick up a set of scales like this for as little as £10, so it's not going to break the bank, but may help you break your record for most delicious cup of tea!
Step-by-Step
So, let's throw that all together to show you how to make loose leaf tea like a pro.
Pick a good quality loose leaf tea.

Empty the kettle and use fresh, cold water (filtered water is even better!)

Get the water to the perfect temperature for your tea – use the brewing guide if you bought from us, or our cheat sheet below. If you don't have a thermometer, after the kettle boils, leave it for at least a minute before using, so you at least avoid burning the leaves.

Put the leaves in a strainer and pour the water over. Leave it to brew based on the guide that came with your tea, or using the below cheat sheet.

Remove the strainer and enjoy! Don't forget – lots of loose leaf teas are good for multiple infusions, so don't throw the leaves away. Try them out with another cup later!
Tea Brewing Cheat Sheet
We've thrown together this quick tea brewing cheat sheet to help you work out how to brew loose leaf tea. But, big disclaimer: all teas are different, so this isn't perfect. Not only that, but everybody's tastes are different. Keep trying different temperatures and times with your favourite teas until you find the perfect method for you.
If you buy our loose leaf teas, we include a brewing guide for each product. It's a great starting point to help you make the perfect cup of tea.
| | | |
| --- | --- | --- |
| Type of Tea | Water Temperature (°c) | Brewing Time (minutes) |
| Black | 100 | 3-5 |
| Green | 70-85 | 1-3 |
| Oolong | 85-95 | 2-4 |
| White | 80-85 | 4 |
| Yellow | 80 | 4 |
| Dark/Puerh | 100 | 1* |
*multiple short infusions are best